Overview
DBS is a procedure that involves implanting electrodes in the brain to stimulate certain parts of the brain. These electrodes can control or alter the electrical impulses that come from the brain.
Deep brain stimulation is controlled using a device that's placed under the skin. It sends a wire that's connected to the electrode in your brain.
DBS is currently used to treat several conditions such as: Parkinsons disease, essential tremors, Dystonia, Epilepsy and Obsessive-Compulsive Disorder (OCD).
DBS is also currently being investigated as a potential treatment for: Tourettes syndrome, chronic pain and cluster headaches.
DBS for patients with mental disorders is not a standard treatment. This makes every patient who undergoes DBS for psychiatric reasons an experimental subject and therefore every session needs to have an in-depth analysis of benefits, risks, and consequences.
Deep brain stimulation (DBS) involves implanting electrodes within certain areas of the brain. These electrodes produce electrical impulses that regulate abnormal impulses. The electrical impulses can also affect certain cells and chemicals within the brain. The amount of stimulation in DBS is controlled by a pacemaker-like device placed under the skin in the upper chest. A wire that travels under the skin connects this device to the electrodes in the brain.
The US Food and Drug Administration (FDA) has approved DBS for movement-related disorders, and it has been used in more than 35,000 patients worldwide. The public's attention has been drawn to the improvement in symptoms of many patients, and neuroscientists are now introducing DBS for psychiatric disorders. The successful treatment of small groups of people with otherwise treatment-resistant Obsessive-compulsive disorder (OCD), major depression (MD), or Tourette's Syndrome (TS) suggests that DBS will be used more frequently in the future to treat mental disorders. The efficacy of DBS in the treatment of addiction and schizophrenia is still being debated.
Mechanism of action of DBS
The particular mechanism of action of DBS is still unknown. DBS creates an electrical field in the brain tissue that weakens dramatically as the distance between the electrode and the brain tissue increases. Because DBS has effects that are very similar to lesioning in some disorders, the suggested mechanism was simplified to a functional neural blockade.
The complex effects of DBS are influenced by the stimulus settings, such as the amplitude and temporal features of stimulation, physiological qualities of specific cells, stimulus field geometry, and the underlying condition. The distance between the electrode of the neural element to be modulated and the electrode of the neural element to be modulated is a significant aspect in the mechanism of action. At higher currents nearby elements may be inhibited, and distant elements may not receive enough stimulation at high currents, while intermediate elements will be stimulated. Gray matter and neurons, as well as myelinated and unmyelinated fibres, exhibit distinct reactivity. As a result, the results of DBS in therapeutic DBS vary depending on the target sites. However, stimulation-induced modulation of defective network activity, maybe by improving rhythmic and synchronous inhibition within and between afferent structures, is the most likely explanation for DBS-efficacy.
DBS and OCD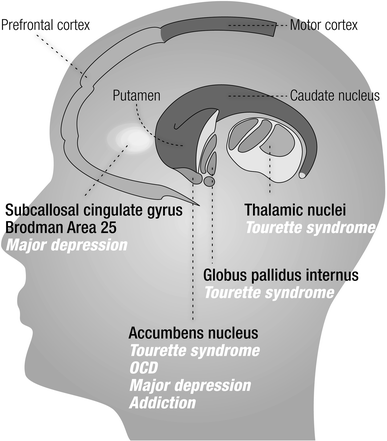 OCD was the first mental disorder to be treated with DBS in an experimental setting. Nuttin et al. reported encouraging results in three of four OCD patients after implanting electrodes in the anterior limbs of the internal capsule and the neighbouring nucleus accumbens in a pilot study published in 1999 (Nuttin et al, 2002). Mallet et al. provided early findings indicating that even activation of the subthalamic nucleus, a region commonly targeted in Parkinson's disease, can alleviate symptoms of severe forms of OCD. Surprisingly, this technique was linked to a high incidence of significant adverse outcomes (Mallet et al, 2008).
DBS and Tourette's Syndrome
Since the initial case report of effective thalamic DBS therapy for TS in 1999, numerous additional groups have employed this target in a small number of TS patients. For example, Maciunas et al. used a double-blind crossover trial design to look at the effectiveness of thalamic stimulation in five adult TS patients. Although two patients did not react to DBS, there was a statistically significant improvement at the conclusion of the four-week doubleblind phase. The biggest thalamic DBS trial had 18 patients, all of whom were responders, with tic reduction rates ranging from 31 to 95 percent.
Ethical Aspects of DBS
The nature of ethical aspects of using DBS in mental disorders is quite complex in practice. DBS for patients with mental disorders is not a standard treatment. This makes every patient who undergoes DBS for psychiatric reasons an experimental subject and therefore every session needs to have an in-depth analysis of benefits, risks, and consequences.
There have been some helpful recommendations put forward by the Tourette's Syndrome Association which include; involvement of an ethics committee that would supervise the project. Moreover, there have to be well-defined criteria for chronicity, disability, severity, and treatment refractoriness. Also, only patients who are fully clinically capable of making decisions should be allowed to participate and should be offered professional follow-up psychotherapy.
In order to improve DBS, there need to be well-proven reasons for choosing the implantation area and the particular parameters for specific mental disorders. Moreover, all previous results from studies should be taken into account to publish elaborate methodologies for implantation location and mechanisms of DBS. Since DBS could induce unforeseeable cognitive, emotional, mental, and behavioral changes in patients, there need to be multidisciplinary long-term follow-ups with the patients routinely to obtain accurate results.
For the time being, those mental diseases that are severe, persistent, and have no potential treatment options should be examined first. These requirements may conflict with the patient's right to informed permission, which is morally significant, but such consent should be pursued strongly and supplemented by extra or substitute consent from a person close to the patient or a caregiver. As a result, patients for DBS research must be carefully chosen. DBS should be limited to therapy resistance of the later phases as long as there is no indication of neuroprotective benefits or higher efficacy in the early stages of mental illnesses.
With continuous improvements, DBS could be a vital method for treating many mental disorders, such as TS, which have no state of the art therapeutic treatments today, which could significantly help the personal and professional lives of people affected by long-term mental disorders.
REFERENCES
Kao, Ming-Chien. "A New Mode of Percutaneous Upper Thoracic Phenol Sympathicolysis: Report of 50 Cases." Neurosurgery, vol. 51, no. 2, Aug. 2002, pp. 519–520, academic.oup.com/neurosurgery/article/51/2/519/2747153?login=true, 10.1227/00006123-200208000-00045. Accessed 26 Oct. 2021.
Kuhn, Jens, et al. "Deep Brain Stimulation as a New Therapeutic Approach in Therapy-Resistant Mental Disorders: Ethical Aspects of Investigational Treatment." European Archives of Psychiatry and Clinical Neuroscience, vol. 259, no. S2, 30 Oct. 2009, pp. 135–141, link.springer.com/article/10.1007/s00406-009-0055-8, 10.1007/s00406-009-0055-8. Accessed 26 Oct. 2021.
Nuttin, Bart, et al. "Electrical Stimulation in Anterior Limbs of Internal Capsules in Patients with Obsessive-Compulsive Disorder." The Lancet, vol. 354, no. 9189, Oct. 1999, p. 1526, http://www.thelancet.com/journals/lancet/article/PIIS0140-6736(99)02376-4/fulltext, 10.1016/s0140-6736(99)02376-4. Accessed 26 Oct. 2021.
German Parkinson Study Group (GPS) (2009) Controlled trial of deep brain stimulation in early patients with Parkinson's disease. http://clinicaltrials.gov/ct2/show/NCT00354133.
Maciunas RJ, Maddux BN, Riley DE, Whitney CM, Schoenberg MR, Ogrocki PJ, Albert JM, Gould DJ (2007) Prospective randomized double-blind trial of bilateral thalamic deep brain stimulation in adults with Tourette syndrome. J Neurosurg 107:1004–1014
Nuttin B, Cosyns P, Demeulemeester H, Gybels J, Meyerson B (1999) Electrical stimulation in anterior limbs of internal capsules in patients with obsessive–compulsive disorder. Lancet 354:1526
Nuttin BJ, Gabriels L, van Kuyck K, Cosyns P (2003) Electrical stimulation of the anterior limbs of the internal capsules in patients with severe obsessive-compulsive disorder: anecdotal reports. Neurosurg Clin N Am 14:267–274
U.S. Food and Drug Administration (2009) New humanitarian device approval. www.fda.gov/cdrh/mda/docs/H050003.html.
Latest From Instagram
More from the NeuroBlog
Overview In May 2022, I attended a conference in Syndey, Australia. The conference was targeted mainly for psychiatrists and neuropsychiatrists. I was able to attend this lovely conference through my company called Monarch Mental Health Group. On the first day, the conference kicked off by an invited keynote speaker. This speaker was a psychiatrist, and…
Overview Developmental dyslexia (reading disabilities/disorders, or decoding-based reading disorder) is a neurodevelopmental disorder with multiple potential underlying genetic, neural, and cognitive factors.Past models have not been very successful at integrating key neural and behavioural features of dyslexia with common neural processes, until Hancock et al. (2017) proposed their dyslexia model. Dyslexia risk genes indicate two…
It is the summer of 2014 on Earth's Northern hemisphere and the movie Lucy is hitting theatres. The official promotional posters and movie trailers contain the tagline "The average person uses 10% of their brain capacity. Imagine what she could do with 100%." Lucy becomes the second most successful debut for a French action film,…